SmileTracker is the only app that lets you monitor patients between visits. Sign up for a 60-day FREE trial.
Create an Account
Download Brochure
An Interactive Process for Creating Better Smiles
SmileTracker is a convenient way for you to monitor your patients' progress and compliance in between appointments helping you keep your treatment plans on target.
SmileTracker's interactive platform allows orthodontists to view current patient photos and up-to-date time-lapse video footage of their treatment progress. Patients will stay engaged throughout treatment with a fun app that rewards them, and even lets them share their orthodontic treatment via social media. Use of an Apple iPhone is required.
Check out the SmileTracker process
Watch the video to see how SmileTracker works and better understand the value it will bring to your orthodontic practice.
View Video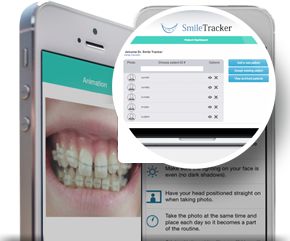 Orthodontic Pricing*
Sign up for a 60 day FREE TRIAL (Patient App is FREE)
Start your free trial today!
Sign up for a 60-day FREE trial and keep track of your patients between appointments with SmileTracker.